Dew Drops Mushroom Hyaluronic Acid + Vitamin C Serum
Dew Drops Mushroom Hyaluronic Acid + Vitamin C Serum
For All Skin Types
1 fl oz | 30 mL
30-Day Full Refund if we're not the right fit!
Bundle and save 20%
Aqua/Water/Eau, *ᵀPentylene Glycol, Glycerin, *ᵀTremella Fuciformis (Tremella Mushroom) Polysaccharide, *Terminalia Ferdinandiana (Kakadu Plum) Fruit Extract, *ᵀAloe Barbadensis (Aloe Vera) Leaf Juice, *Cocos Nucifera (Coconut) Fruit Juice, Kappaphycus Alvarezii (Red Algae) Extract, Caesalpinia Spinosa (Tara) Fruit Extract, *Sodium Levulinate, *Sodium Anisate, *Picea Mariana (Black Spruce) Bark Extract, *Acer Rubrum (Red Maple) Bark Extract, *Pinus Banksiana (Jack Pine) Bark Extract, *Betula Alleghaniensis (Yellow Birch) Bark Extract, Salvia Miltiorrhiza (Red Sage) Root Extract, Butylene Glycol, *ᵀEucalyptus Globulus (Eucalyptus) Oil, *Citrus Sinensis (Sweet Orange) Peel Oil Expressed

* Non-GMO, ᵀ Organic

Read more about each ingredient in our Ingredients Glossary.
Apply 1-2 drops to clean skin, morning and night. Should be applied after cleansing and before creams.

If used once per day, the average customer re-purchases a bottle after 2 months.

Test on a patch of skin before applying to the face. Keep out of reach of children and away from direct sunlight. Do not use if allergic to any of the ingredients.
Free tracked shipping for orders over $50. Orders ship within 48 hours and ship times are from 1 - 5 business days. Read our full shipping & return policy here.

We proudly offer a 30-day money-back guarantee. If you don't absolutely love your purchase, we will refund your purchase and pay for return postage.
Can I use Dew Drops morning and night? Yes, Dew Drops is safe to use both in your morning and evening skincare routines.

Can I use Dew Drops with other Three Ships Beauty serums? Yes, Dew Drops can be used with any of our products. Find a complete skincare layering guide here.

This serum contains both Hyaluronic Acid and Vitamin C, can these two ingredients be used together? Yes! Vitamin C is a great antioxidant that scavenges for free radicals on the skin. Hyaluronic acid is a humectant that has a low pH hence the name "hyaluronic acid". It attracts water molecules from its surroundings in order to increase in size. Both ingredients work synergistically together and does not inhibit each other.

What is the difference between a water-based serum and an oil-based serum? Water-based serums go under a cream. They nourish the inner layer of the skin because the molecule is small and is able to penetrate deeper. Oil-based serums go on top of cream because they have a bigger molecule. They lock in all the moisturizing products you put underneath.

Does Dew Drops contain upcycled ingredients? Yes! Our Bark Extract is upcycled from the biomass by-products of the lumber industry in Quebec, Canada. The bioactive molecules in the tree's bark are obtained through a circular economy cycle, where leftover bark is recycled into compost and returned to the forest as fertilizer.

Does the Vitamin C in Dew Drops degrade when its in contact with oxygen?Not necessarily, though we always recommend best practices of not leaving the product open or exposed to the sun. Dew Drops contains Kakadu Plum as its source of Vitamin C, so it is not exactly the same as typical Vitamin C (ascorbic acid) (i.e. the singular Vitamin C molecule). Ascorbic acid is extremely unstable but Kakadu Plum is not so it doesn't require the same sort of stabilizing ingredients or UV protective packaging, and it doesn't degrade at the same rate.
Real Results Using Dew Drops
Absolutely love this company!
"Literally melted into my skin instantly like water. My skin felt super hydrated and smooth and I could instantly see and feel the difference. I could actually instead see my natural redness disappear."
Abbey D.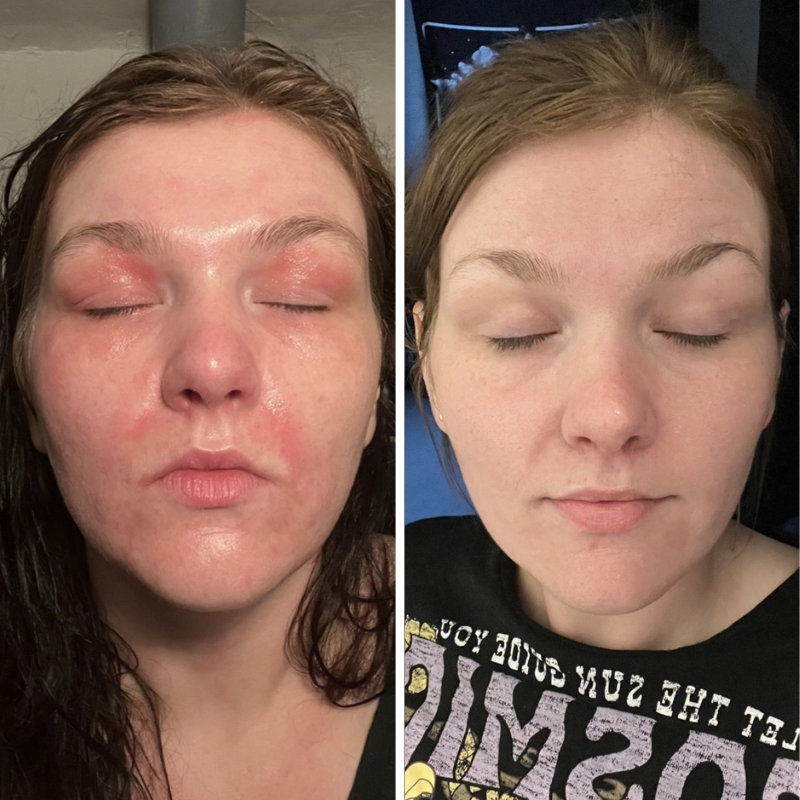 Now a customer for life!
"I was very prone to really dry, itchy, painful spots on my eyelids, nose and chin. I started using Three Ships products about a month ago and have seen such an amazing transformation. I used the Purify Cleanser, Dew Drops Serum, Radiance Cream, Skin Hero Bio-Retinol Serum, Dream Night Cream, and Glow Oil Serum. I am now a customer for life!"
Brittney M.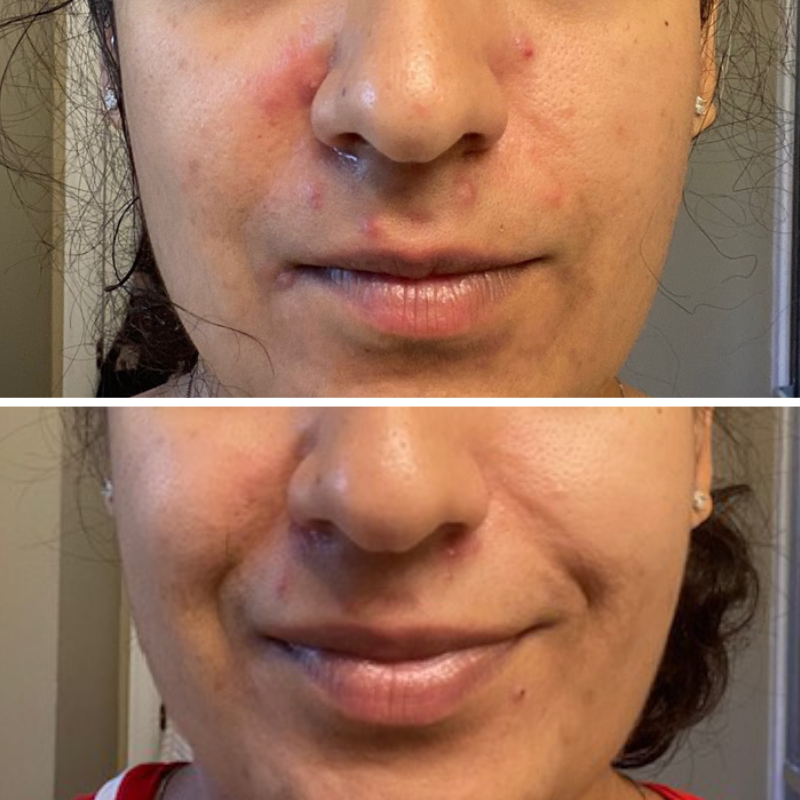 Wow, this stuff is amazing!
"Honestly, my skin has never felt or looked better. My acne has cleared up significantly, and my skin is also less oily."
Mira T.
Love your products.
"A lot of the redness on my cheeks is gone!"
JENNIFER B.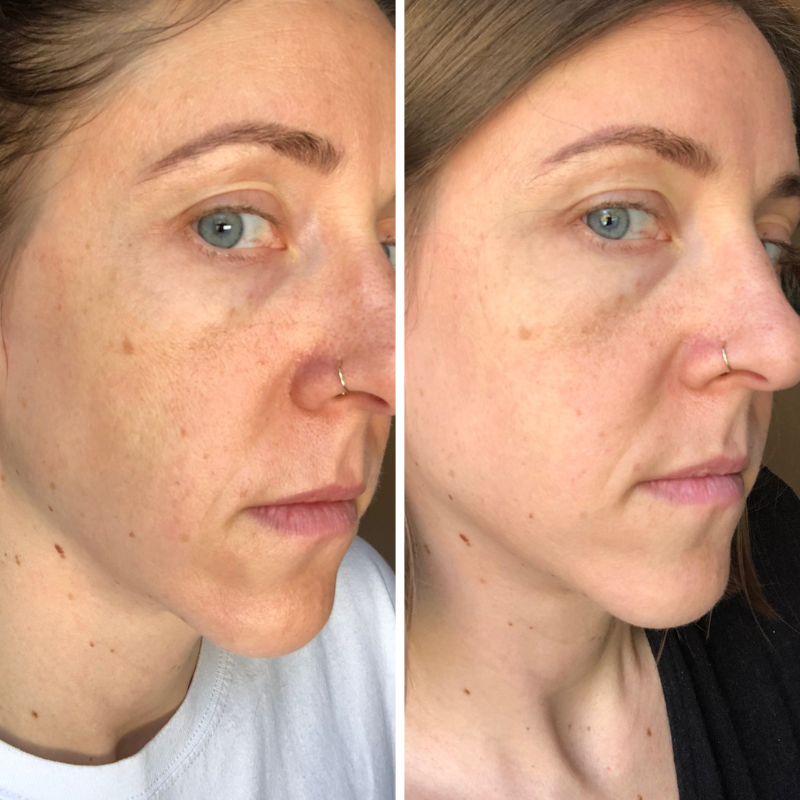 Brighter and moisturized skin.
"My skin feels very moisturized throughut the whole day."
CAMILLE A.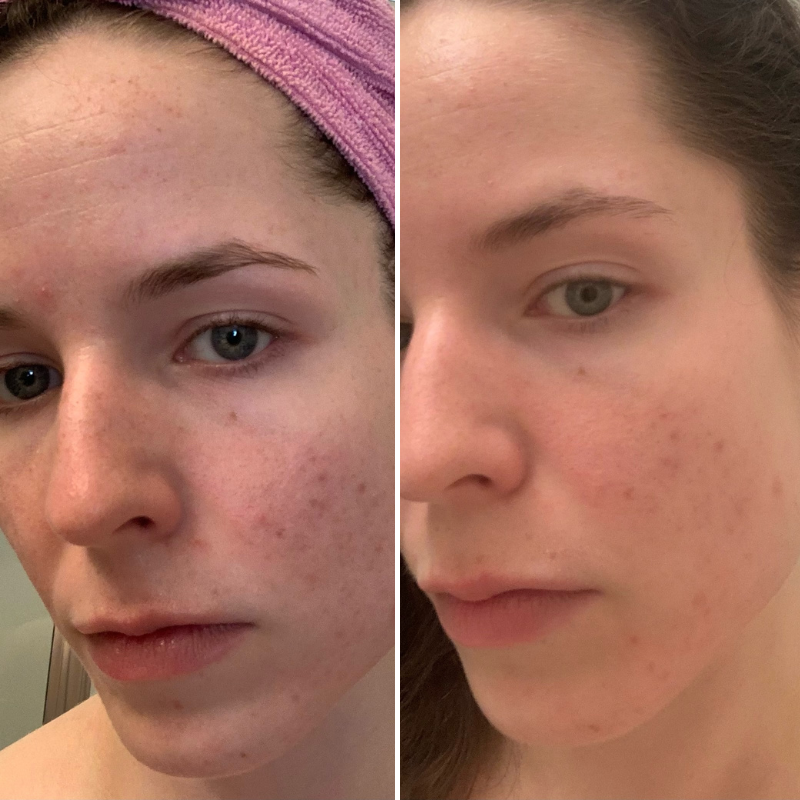 Really happy with this product.
"I really like it, despite a current food allergy related breakout, most days my skin feels brighter and more hydrated."
Jordan O.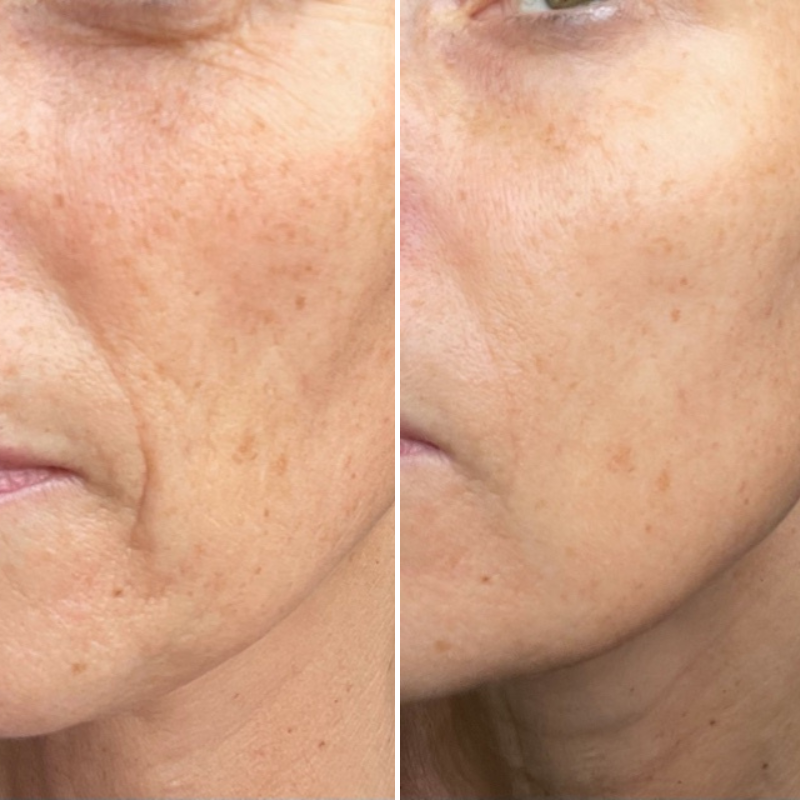 Wonderful!
This 51 year old is very happy with the results so far!
Julie R.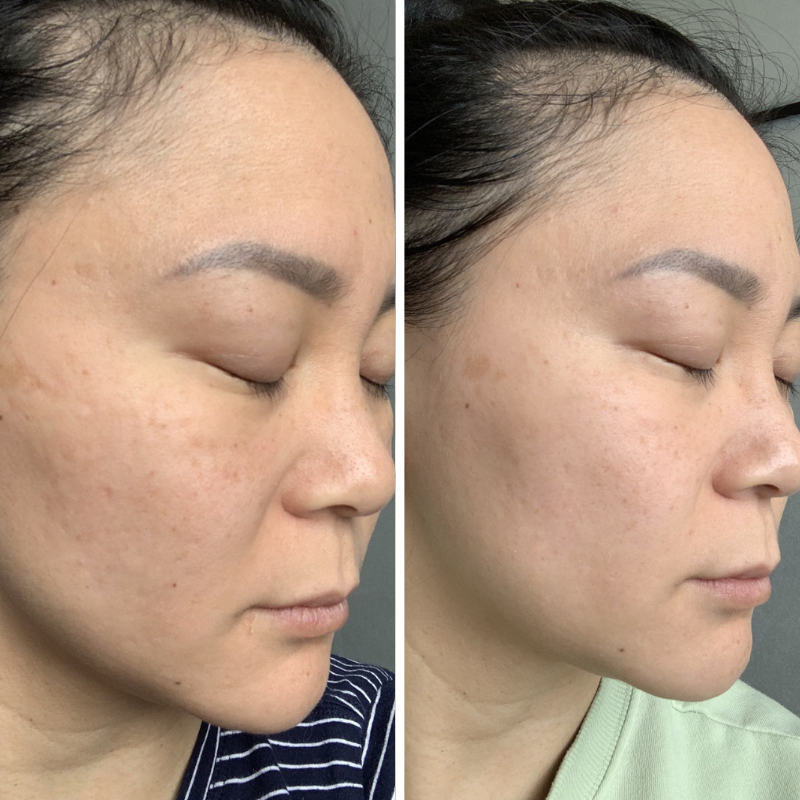 I have gotten many compliments on my skin!
"At 33, and a new mom, I have never been so confident about my skin. My skin has transformed to what I have always wished for - soft, smooth, glowing, and irritation free!"
Michelle P.
I already see and feel improvement
"I've been using Purify and Dew Drops serum for just a couple of weeks and I already see and feel improvement. My skin looks brighter overall and the hard edges of scars and wrinkles have started to soften. The Purify lathers and cleans so well without leaving my face feeling tight like many other cleansers have."
MEGAN L.
proven effective
In Customer Testing, Dew Drops was shown to increase skin elasticity and visibly brighten.
100%
of users said their skin felt firmer after use*
91%
of users said their skin felt moisturized after use*
90%
of users saw visible results*
*Based on a survey with 12 participants
*Based on a survey with 12 participants
Traceable Key Ingredients
Tr
Tremella Mushroom
Tremella extract is a hyaluronic acid alternative, made up of xylose, mannose, glucuronic acid which are hydrophilic compound with anti-inflammatory and wound healing properties. Sugar molecules in tremella extract are great for moisturizing the skin and creating a firm, smooth texture.
See the Research
Ka
Kakadu Plum
Kakadu plum extract has 100x more vitamin C than oranges do. Vitamin C is a potent antioxidant that helps to block oxidative stress. Oxidative stress comes from things like the sun, pollution, smoking, and more. It can also help decrease the amount of sun damage to the skin by minimizing the level of inflammation and redness caused by overexposure to the sun.
See the Research
Re
Red Algae Extract
Red Algae Extract is a hydrating ingredient that is chockful of galactomannans, to help maintain the skin's natural hydration. This extract is rich in polysaccharides which clings to water molecules to hydrate and plump the skin. The biopolymers made from the polysaccharides not only attract water, but also interlock with each other.
See the Research
Know exactly where your ingredients come from.
Integrity guides all aspects of our business, and we encourage everyone to look closer. Feel free to navigate and explore the SourceMap to learn more about the ingredients in our Dew Drops Mushroom Hyaluronic Acid + Vitamin C Serum.
Step one
Oil Cleanse
An essential first cleanse in your skincare routine to gently remove makeup, dirt and impurities.
Looking for a cleansing oil ?
Step two
Cleanse
The most important step in any daily routine, cleansing ensures that dirt does not accumulate which can be causes of acne, dry or uneven skin.
Looking for a cleanser?
Step three
Tone
Toning re-balances your skin's pH to healthy levels post-cleanse leaving your skin ready to absorb your serums and creams to their full potential.
Looking for a toner?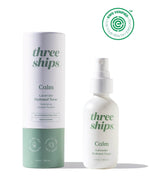 Step four: Water Based Serum
When to Use Dew Drops
Apply 1-2 drops to clean skin, morning and night.
Step five
Cream
Face creams act as an essential barrier to your skin, locking in hydration and maintaining skin elasticity.
Looking for a cream?
Step six
Oil Based Serum
All Three Ships oil serums are light-weight and non-comedogenic, plus they are packed full with fatty acids and essential nutrients.
Looking for an oil based serum?
Customer Reviews
Customer Reviews
Write a Review
Ask a Question
Filter Reviews:
skin
serum
face
Three
Dew Drops
bottle
difference
glow
scent
Texture
12/08/2023
Jessica P.

Canada
I recommend this product
Fresh and glowing
Leaves skin soft fresh clean and smells great. Smells very nice. Products are true to scent and not overpowering. Very fast delivery!
12/08/2023
Marissa

United States
12/08/2023
samantha
Love my new skin care routine!